18 Years in Parliament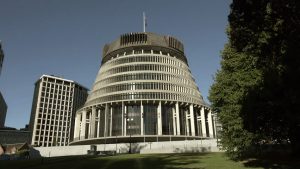 Rick was elected to Parliament in November 1993 representing the seat of Hastings, the last 'first past the post' election. During this term he set up the Tomoana Resource Centre to support the 2000 freezing workers made redundant with the collapse of the Weddell freezing company and had his office burnt out in an arson attack.
In 1996 Rick won the newly named and enlarged seat of Tukituki in the first MMP election, had his office held up at gunpoint for nine hours and went on to hold the seat until 2005. Rick was a list MP for two further terms completing 18 years in Parliament. During this time Rick served on various Select Committees, was Junior Party Whip in opposition 1996, Senior Government Whip 1999, and became a Minister in 2002 serving six years during which time held the Customs, Courts, Internal Affairs, Veterans Affairs, Civil Defence, Work and Income and Associate Justice Portfolios. A summary of Ricks work as a Minister is described in his CV below.
During his last term in Parliament Rick completed a Masters of Public Policy at Victoria University, Wellington for two reasons; he constantly said to his children finish what you start to which they would sometimes reply, tell me about your university work, to which there was no answer and jokingly that he was following the first rule of blokes, only when all else has failed, read the instructions.
View detailed Parliamentary profile